You are a coffee addict and you are in Saigon? Do not skip the 10 best coffee shop in Ho Chi Minh city below. You will be amazed with these names.
Vietnam in general and Ho Chi Minh city in particular is one of the best places on Earth for coffee addicts. Here you can indulge yourself in delicious coffee blends and fragrant roasted beans all day long.
Without further ado, I will introduce you to the 10 best coffee in Saigon city now.
Let's get started!
Top 10 Best Cafes In Saigon
1. Blank Lounge (Landmark 81)
Fancy a coffee retreat in the Southeast Asia's tallest building? Well, then you cannot miss out on Blank Lounge. It is located on the 75th and 76th floor in Landmark 81, making it one of the highest lounge in the world.
The transparent glass walls let in a great amount of natural light during the day, which is perfect for taking gorgeous check-in photos. That is not to say you should not come to Blank Lounge when the night falls. In contrast, the best time to visit the lounge is after 6pm, so that you can marvel at the incredible scenery when Saigon lit up.
Opening hours: 09:30 am – 00:00 pm
Address: 208 Nguyen Huu Canh, Ward 22, Binh Thanh District Floor 75th – 76th
View on: Google Maps
2. Social Club Saigon coffee
Situated on the highest floor of Hôtel des Arts Saigon, the Social Club lounge offers you a panoramic view of Saigon from above. Sip a hot cappuccino while feasting your eyes on the sky-high buildings and bustling streets of the most dynamic city in Vietnam. Sounds great, right?
And Social Club Saigon coffee is not just about the view. It differentiates itself from other cafes with luxury and romantic feels that are suitable for a date. You and your partner might be interested in having a chit-chat on top of HCMC.
Opening hours: 05:00 pm – 00:00 pm
Address: 76-78 Nguyen Thi Minh Khai, Ward 6, District 3, Ho Chi Minh
View on: Google Maps
3. Park Lounge
If you are into finer things, Park Lounge is the ideal of best coffee in Saigon destination for you. It is safe to say that this lounge sets the standard for style and refinement.
When you step in Park Lounge, get ready to be in awe of the luxury interior design with tall windows and sparkling crystal chandeliers. You will feel as if you were lost in some French grand castles.
The drinks and foods deserve my loudest praise, too.
Opening hours: 07:00 am – 00:00 pm
Address: 76-78 Nguyen Thi Minh Khai, Ward 6, District 3, Ho Chi Minh
View on: Google Maps
4. OZ Coffee House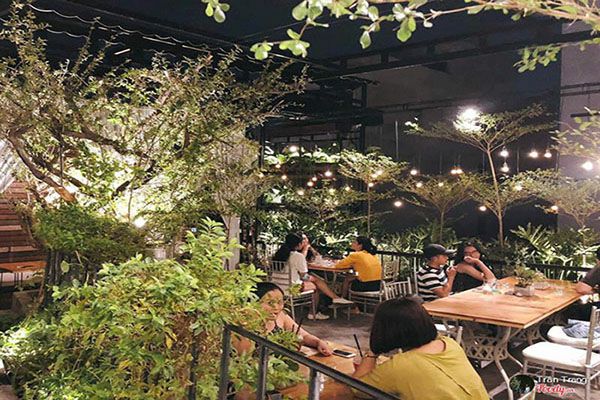 OZ Coffee House is the definition of a hidden gem, which offers you an escape from the chaos of Saigon. The greenery of flora and fauna will absorb the burning heat and give you relaxing moments amid the bustling atmosphere of the mega city.
The menu is varied, and the drinks and foods are delicious. Make sure to pay it a visit if you are nearby. OZ Coffee House will not let you down.
Opening hours: 07:00 am – 22:30 pm
Address: 30 Huynh Tinh Cua, Ward 8, District 3, Ho Chi Minh
View on: Google Maps
5. L'usine
L'usine is a favorite destination of both locals and foreigners living in Saigon. The cafe-restaurant follows an European contemporary style with refined simplicity. There you can treat yourself to excellent dishes or drinks, and of course, coffee. Believe it or not, all the foods in L'usine are of world-class quality, and I bet they will delight you!
You can find three locations of L'usine nestling invitingly in crowded corners of Saigon. Feel free to take a stroll in its boutique shop and gallery before heading upstairs for an amazing coffee retreat.
Opening hours: 07:00 am – 22:30 pm
Address: 151 Dong Khoi, Ben Nghe, District 1, Ho Chi Minh 70000
View on: Google Maps
For more: apartment for rent in Ho Chi Minh City
6. The Comma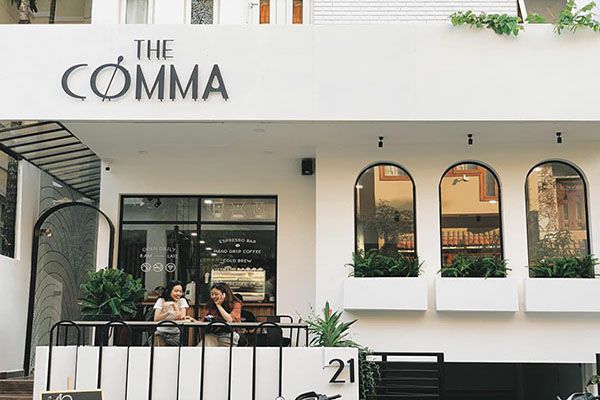 The Comma is a fairly new face amongst other aged-old cafe in Saigon. However, it is gradually becoming a popular pick of youngsters in the city, and for good reasons.
The coffee shop is decorated in a classic style with black and white being the main tones. Drinks are another highlights of the Comma, of which Takesumi Latte is the most highly recommended.
Believe me, the Comma will take you to another phrase!
Opening hours: 08:00 am – 22:00 pm
Address: 21 Hoa Mai, Ward 7, Phu Nhuan, Ho Chi Minh
View on: Google Maps
7. Cafe 81
Go back in time with cafe 81 – a favorite destination of those who always long for the past.
At first sight, you can hardly tell that this is a popular coffee shop. It looks more like a typical aged house situated for long in the boisterous city of Saigon. There is no fancy furniture but patchy walls and faded stools, which evoke a wave of nostalgia.
The menu features a few options only, all of which are simple yet typical drinks of Saigon. Anyone, even the most picky drinkers, should enjoy the drinks in cafe 81.
What I love about cafe 81 is not just the feel, but the wonderful service. If you are not satisfied with your drink, you can have another glass for free.
Opening hours: 07:00 am – 22:30 pm
Address: 28 Nguyen Huu Cau, District 1, Ho Chi Minh
View on: Google Maps
8. Co Ba Sai Gon Rooftop
Amongst hundreds of vintage cafes in HCMC, Co Ba Sai Gon still stands out with its unique feel.
The whole shop is decorated in a dark brown tone, featuring gentle touches of greenery. It looks like a mini museum due to multiple antique objects on display, such as the bronze dial telephone, or the typewriter.
The menu offers a variety of drinks for you to choose from. More notably, the prices are quite affordable compared to other well-known coffee shops in Saigon.
Opening hours: 07:30 am – 23:00 pm
Address: 4-6 Dong Khoi, Ben Nghe, District 1, Ho Chi Minh
View on: Google Maps
9. Terrace Cafe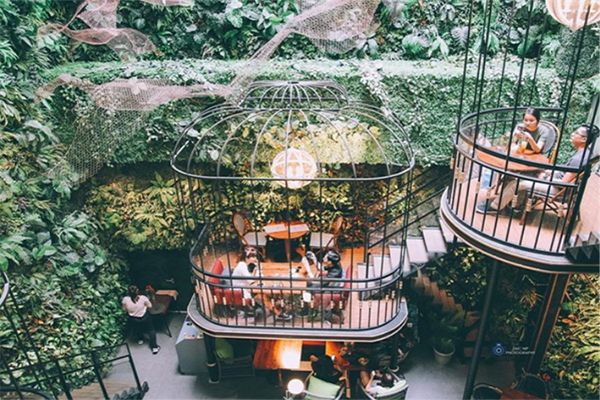 Terrace cafe is one of the most stunning garden coffee shops in HCMC. You will be impressed with the incredible beauty of the cafe located in Takashimaya shopping center.
Terrace cafe gives you the feel of a wonderland that you used to dream about. It combines classic and modern architecture while remaining close to nature. The meticulous care goes into every detail to bring you the perfect atmosphere for relaxation.
If you happen to drop by Takashimaya center, do not miss Terrace cafe. Trust me, it is definitely worth a visit.
Opening hours: 09:00 am – 22:00 pm
Address: 65 Le Loi Street, Ben Nghe, District 1, Ho Chi Minh
View on: Google Maps
10. Family Gardens Café
The last name on our list is another oasis amid the chaotic Saigon. You can escape from the hustle and bustle as soon as you step into the coffee shop, which is surrounded with greenery. Waterfalls and ponds are there to relieve the scorching heat of the city.
As its name might suggest, Family Gardens Café is suitable for family gatherings. There is even a separate playground for children!
Opening hours: 07:00 am – 23:00 pm
Address: 438 Phan Van Tri, Ward 5, Go Vap, Ho Chi Minh
View on: Google Maps
The Bottom Line
Ho Chi Minh city is literally a paradise for coffee addicts with thousands of stunning spots. Frankly speaking, I could go on forever. However, I believe above are the top 10 best coffee shop in Saigon. Take your time and visit one by one; you will not be disappointed.
Do you know any other beautiful coffee shops? Share it with me in the comment section below.
Thank you for reading!