You are searching for a French restaurant Saigon? Let us recommend some for you. Just read this article until the end, and then, you can make a choice.
Have you ever tried a French restaurant Saigon?
Saigon or Ho Chi Minh City is an ideal destination for both local people and foreigners with many types of entertainment, including shopping malls, historical museums, street food stalls, or luxury restaurants.
Saigon is a place that you can enjoy international cuisines, especially French cuisine. Below is a list of top 7 best French in Saigon.
The best 7 French restaurants in Ho Chi Minh City – Vietnam
#1 The Refinery Saigon in District 1
Located in District 1, the Refinery Saigon has a comfortable space with a large yard, cozy room space, and small tables designed in a French style. Hence, you can choose a table inside or outside.
About food, this restaurant is very appropriate for French food lovers. The menu offers a variety of French dishes such as French onion soup with toast and cheese, a wide range of cheese plates, etc.
Wine lovers will appreciate the list of wines from Australia, New Zealand, France, Chile, Spain, and Italy.
The price of a meal at this restaurant ranges from $40 to $200.
Open hours: all days from 11am to 23pm
Address: 74 Hai Ba Trung, District 1, Ho Chi Minh City.
View on: Google Maps
#2 48 Bistro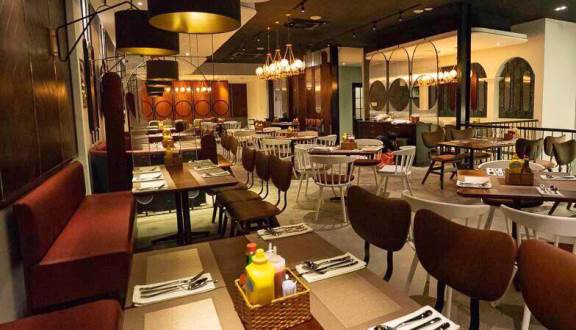 Due to the attraction os 48 Bistro, this restaurant is always crowded at mealtime. Therefore, perhaps you may wait for a moment. Nevertheless, waiting for tasty food has no problem, right?
The space is so lovely, spacious, and beautiful at night, which makes you comfortable to enjoy French dishes.
With a rich menu, you will have the opportunity to get many choices and enjoy stunning dishes, for example, Australian beef patty with mustard sauce or foie gras.
Open hours: 10:00 – 14:00 and 17:00 – 22:00.
Address: 52 Le Thi Rieng, District 1, Ho Chi Minh City.
View on: Google Maps
#3 La Villa French Restaurant
La Villa French Restaurant is a very famous French restaurant in Saigon. As its name, this restaurant attracts diners with luxury space and a romantic atmosphere in a villa.
Coming to La Villa French, you will have the chance to enjoy delicious dishes made by a French chef.
Here are some famous dishes of the restaurant: Millefeuilles tomate/aubergine/mozzarelle Terrine de foie gras, carpaccio de coquilles St Jacques, tarte citron bouillabaisse, etc.
Open hours: from Monday to Thursday – 11.45 am to 3 pm, and from 6.45 pm to 9.30 pm.
Address: 14 Ngo Quang Huy, Thao Dien, District 2, Ho Chi Minh City.
View on: Google Maps
#4 3G Trois Gourmands in District 2
Located in a villa in District 2, Ho Chi Minh City, 3G Trois Gourmands is an ideal place for having romantic dinners. With a private space and simple interiors, you will find the atmosphere cozy at all times.
In this French restaurant, the menu offers you many authentic French dishes, such as lamb fillet, sea bass ravioli with truffle mushrooms and wine sauce, lobster in avocado sauce, and duck breast with orange sauce.
Also, you can order some wine for your meal.
Open hours: Daily 11:00 – 14:00 and 18:00 – 21:30.
Address: 39 Tran Ngoc Dien, Thao Dien, District 2, Ho Chi Minh City.
View on: Google Maps
#5 Cocotte
Cocotte is one more restaurant in district 1 in Saigon.
The layout of the restaurant is a charming and European style. Besides, the space is cozy and shimmer, which is appropriate for couples.
The menu here is quite rich, and especially the price is very suitable. The staff is extremely amicable. Also, the manager is French. Hence, you will be satisfied with this French restaurant.
Coming there, you can try pancake with duck and mushroom sauce, pan-fried beef with mushroom sauce, pan-fried chicken with parmesan cheese sauce, and many other stunning dishes.
Open hours: from 11:00 to 22:30
Address: 136/11 Le Thanh Ton, Ben Nghe, District 1, Ho Chi Minh City.
View on: Google Maps
For more: apartment for rent in Saigon
#6 La Cuisine
La Cuisine is a very luxurious restaurant with a small space but cozy. It is also suitable for families or couples.
At this restaurant, you will experience professional service and especially stunning food that suits everyone. Also, the dishes are not only delicious but also beautiful.
Some dishes that you should try are foie gras, scallop served with sauce, duck breast, and lots of other food for you to select.
Open hours: daily 11:00 – 23:00.
Address: 48 Le Thanh Ton, District 1, Ho Chi Minh City.
View on: Google Maps
#7 Le Bordeaux Restaurant
Le Bordeaux Restaurant is a great French restaurant in Saigon. Lots of diners coming there leave a large number of positive feedback about the food and the service.
Although this restaurant doesn't have a rich menu, all the dishes here are very delicious and leave a good impression on anyone who has come here.
Moreover, the service is excellent with friendly waiters and the price is also exceptional.
Open hours: 11:30 – 21:30 everyday.
Address: 72, Nguyen Gia Tri, Binh Thanh District, Ho Chi Minh City.
View on: Google Maps
To conclude
Above are the top 7 French restaurants Saigon that we suggest to you. Have you decided to go to which restaurant for your meal?
We ensure that you will be contented with the food and service at all these restaurants. Remember to come soon, or you may have to wait for a long time because many people also want to enjoy the food at these restaurants like you.
We hope you will enjoy the meals with your family and friends.
You can view some more topics:
Thank you for reading!