If you are finding a place to enjoy delicious food and beautiful space in Saigon, the best Japanese restaurants below are suggestions for you.
If you are Japanese living and working in Vietnam, and you are still not familiar with Vietnamese cuisine, you want to continue enjoying the taste of your homeland, and then this article is really for you.
Here, we would like to share the best Japanese restaurants in Saigon that you should come and try once a time when you live in Vietnam.
The Top 7 Japanese Restaurants In Saigon
No.

Best 7 Japanese restaurants

Location

1
Isushi Buffet
13 Le Quy Don, Ward 6, District 3
2
Butasama BBQ
19D Ky Dong, Ward 9, District 3
3
Sushi Tei
220A Ly Tu Trong, District 1
4
Ichiba Sushi
159D Nguyen Huu Canh, Binh Thanh District

204 Le Lai Street, District 1

5
Haru Sushi
398 Phan Xich Long, Ward 2, Phu Nhuan District
6
Sushi Dining Aoi
53-55 Ba Huyen Thanh Quan, Ward 6, District 3
7
Pachi Pachi
52 Mac Dinh Chi, District 1
1. Isushi Buffet – Le Quy Don
Crispy shrimp, grilled herring, oysters, or sushi and sashimi will satisfy your craving for Japanese food. However, the food here is served a little long, so you have to wait hard to enjoy the freshest taste.
Isushi is recommended for dating large groups of people because the space is wide and airy, so there are many table areas for you to choose.
When coming here, diners will be able to enjoy delicious fresh-baked dishes at affordable prices.
Address: 13 Le Quy Don, Ward 6, District 3
View on: Google Maps
2. Butasama BBQ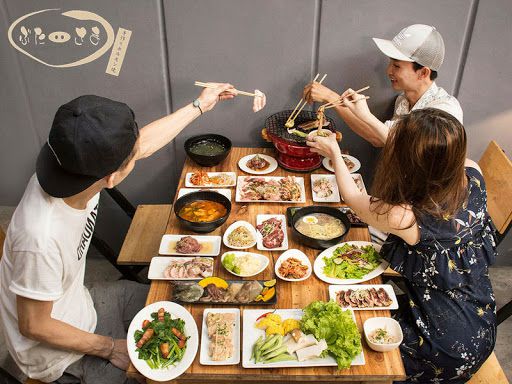 Butasama is a right Japanese BBQ restaurant from the space to how to marinate the food. The area in Butasama is not too spacious, and they grill food by charcoal, but many Japanese customers love it because it is similar to the Japanese party.
The dish is heavily marinated. Besides, there is also horumon – the typical Japanese barbecue. Just adding sake is excellent as well.
Address: 19D Ky Dong, Ward 9, District 3, Ho Chi Minh City
View on: Google Maps
3. Sushi Tei – Ly Tu Trong
Sushi TEI is a favorite Japanese restaurant Ho Chi Minh to enjoy the food of young people in Saigon. The restaurant has a luxurious space, and it is a suitable dating place for families and couples.
The fresh ingredients here are completely imported from Japan, making the flavor of the dish complete.
In addition, the attractive and beautiful food decoration will help diners feel more delicious. The restaurant also serves food sets at reasonable prices, so you can choose if you are traveling with two people.
Address: 220A Ly Tu Trong, District 1, Ho Chi Minh City
View on: Google Maps
4. Ichiba Sushi
Ichiba Sushi is a high-class Sushi & Sashimi restaurant system, which is highly appreciated for the quality and variety of menus. The food here is both delicious, accompanied by quick service plus a nice space, so it is always crowded.
The price is a bit high, but in return, it is a 10% discount when booking through TableNow, so it is temporarily acceptable.
204 Le Lai Street, Ben Thanh Ward, District 1
View on: Google Maps
5. Sushi 
Haru
Haru Sushi restaurant is located on Phan Xich Long Street, although it has only been in operation for a year. Still, compared to other Japanese restaurant Saigon, Haru Sushi has a relatively low price along with the high quality.
You can choose Haru Sushi for simple dating or group meetings with close friends to enjoy a sushi party and affordable sashimi sets.
Address: 398 Phan Xich Long, Ward 2, Phu Nhuan District
View on: Google Maps
6. Sushi Dining Aoi
Located right in the heart of Ho Chi Minh City, Sushi Dining AOI is one of the best Japanese restaurant Ho Chi Minh.
Having both experienced Vietnamese and Japanese chefs, the restaurant proudly presents traditional Japanese cuisine to its customers.
The menu includes a variety of Japanese dishes such as Sashimi, Sushi, lunch menu, desserts, soups, and ramen.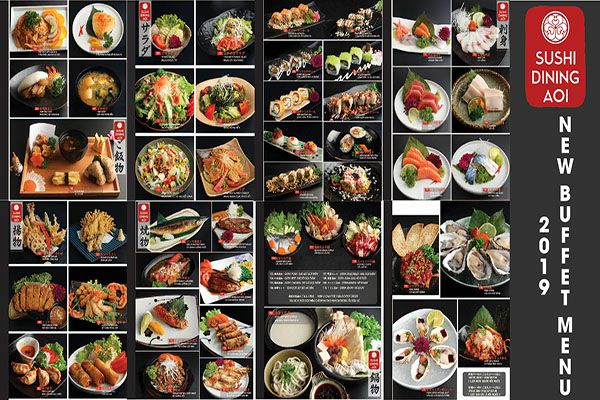 Besides, by using ingredients imported from Japan and undergoing strict processing, the restaurant is committed to providing customers with the most hygienic and delicious dishes.
Address: 53-55 Ba Huyen Thanh Quan, Ward 6, District 3
View on: Google Maps
7. Pachi Pachi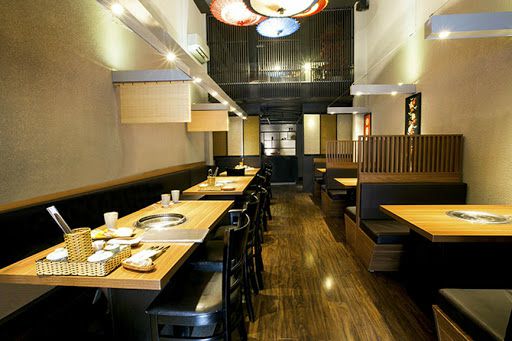 Following the style of grilled hot pot, this restaurant offers diners completely new experiences from how to marinate spices to enjoy food.
Pachi Pachi gives a wide range of choices with a variety of ingredients like grilled beef, chicken, pork, fish, shrimp, squid, oysters, ostriches… They are carefully selected to bring the freshness and safety for customers.
Besides, the dishes are delicately marinated with a lot of Japanese-branded sauces like Teriyaki, spicy sauce, BBQ sauce…, which helps diners have exciting taste experiences.
Address: 52 Mac Dinh Chi, District 1, Ho Chi Minh City
View on: Google Maps
In Conclusion
With the top 7 Japanese restaurants in Saigon, we hope that this article will help you easily choose the appropriate restaurants.
Come and enjoy with friends or family to have fun moments, and gather with people to dispel the pressure of work.
You can view some more topics:
Thank you for reading!