Every culture in the world has varied breakfast in different ways. When coming to Vietnam, please try the top 10 Vietnamese breakfast meals in this article!
Breakfast in Vietnam is considered the most important meal of the day. In different cultures, they start the day with their own unique dishes. Let's take a look at how the top 10 Vietnamese breakfast meals are different from other countries in the world.
Vietnamese do not have any rules for specific breakfast food. Because of the variety of cuisines, any dish can be used to recharge.
Top 10 Vietnamese Breakfast Meals
Vietnam is considered a country with a gorgeous breakfast dish. From snacks such as bread, sticky rice, dumplings… to other dishes such as Bun, Pho, noodles, porridge, Hu Tieu… can become an interesting breakfast to start a new day.
1. Pho (Noodle Soup)
Referring to the traditional Vietnamese breakfast of Hanoi people, it definitely has to mention Pho. You can see that Pho restaurants appear everywhere in Hanoi.
A bowl of Pho consisting of thin slices of beef or chicken and greasy broth accompanied with the aroma of scallions, fresh lemon, pepper, and chili can certainly satisfy even the most fastidious customer.
In Vietnam, there are many types of Pho, such as rice noodle soup with beef, noodle soup with steak, flank, tendon, or tripe; and fired noodle soup with chicken…
2. Bread (Banh Mi)
Along with Pho, bread is one of the prominent representatives in the Vietnamese breakfast recipes.
It has a yellow French bread crust and a yellow-brown harmony of each aromatic meat layer, the green color of vegetables, and the white-green color of a few slices of cucumber mixed with carrot strands.
Not only beautiful in appearance, but the taste of this Vietnamese breakfast food is also an impressive attraction for diners.
It is due to the perfect combination between the hot crust outside and the richness of the meat inside and the unique sour taste of fresh or mixed vegetables in salad style.
3. Bun Bo Hue
There are many types of Bun in Vietnam, but Bun Bo Hue is a very famous different dish, which originates from Hue in Central Vietnam. In the capital Hanoi or Ho Chi Minh City, this dish is very popular.
Bun Bo Hue is carefully cooked and has excellent quality. A bowl of Bun Bo Hue in Vietnam will have a pork leg, meatballs, and pork blood with raw vegetables.
4. Chao Long
Chao Long is a congee cooked in the usual way, in combination with sweet broth made from pork bones or pig broth. The main material for the soup is the boiled pork viscera.
Chao Long is relatively popular in Vietnam breakfast cuisine. It is widely sold at pig intestines stores nationwide, creating a trio of products that are eaten in order of meals, including blood pudding, pork intestines, Chao Long, and often paired with alcohol.
5. Com Suon
Com Suon is a specialty of South Vietnam. It is one of the most favorite breakfast dishes in the South, especially Saigon.
A plate of Com Suon with grilled ribs, pork skin, Vietnamese pork sausage, and egg is often used as a breakfast dish. However, now, Com Suon is available at some lunch or dinner restaurants with many kinds of accompanied food.
6. Xoi (Sticky Rice)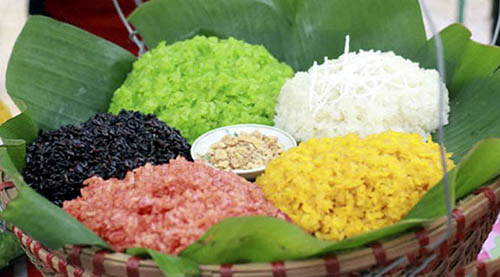 Most Vietnamese are engaged in agriculture and working with their hands and feet, so sticky rice is the best choice because it provides a feeling of fullness for the eater. Besides, it is also a typical Vietnamese breakfast food.
It is not difficult to find a store or street vendor of sticky rice along the roads from urban to rural.
Although the main material is still sticky rice, but to be more attractive, the seller can process in many ways such as fried sticky rice, sticky rice with banana leaves, meat sticky rice…
7. Hu Tieu
Water dishes are always a priority for breakfast in Vietnam. If Bun and Pho are popular in the North, in the South, there will be Hu Tieu.
Hu Tieu comes from Cambodia, but there are many diverse and attractive variants such as Hu Tieu Bo, Hu Tieu Heo, Hu Tieu Muc, and the most famous is Hu Tieu Nam Vang.
Hu Tieu, with an excellent combination of the broth of pork bones, sugar, and sweet fish sauce, creates an unforgettable taste.
8. Banh Cuon (Steamed Rice Roll)
Hanoians consider eating steamed rice rolls as a habit. They like to wait for a plate of Banh Cuon, and watch people make cakes from rice flour, spread onions fat, sprinkle dried yellow onion, cut a few slices of roasted cinnamon pork on top.
This is a dish that many people love, especially in the cold weather. Just sitting next to the embers stove, eating hot Cuon cake, along with the aromatic grilled meat pies and the good sauce, make the person feel very comfortable and relaxed.
9. Bo Ne
Bo Ne on the streets of Saigon has been modified with many ingredients such as sliced beef, potatoes, pate, omelette, salad, bread…
Marinated beef has a strong, slightly sweet taste – typical of Southern cuisine. Fatty pate, golden omelette, and crispy fries make the dish even more appealing.
When eating, you should add soy sauce, chili sauce to the pan of beef, and eat bread, tomatoes, cucumbers to reduce boredom.
10. Bo Kho (Braised Beef)
Braised beef is a very popular dish in family meals because it is a high-protein, easy-to-prepare, and popular ingredient.
With this dish, you can eat with hot rice, noodles or bread, which are very delicious. Beef is tender, thanks to the tendon. Besides, the aroma of ginger and garlic creates an attractive flavor that cannot be mixed with other dishes.
In Conclusion
The above article has helped you to answer the question of what do Vietnamese eat for breakfast.
The top 10 Vietnamese breakfast meals are very popular and available in all provinces in the country. Thus, you can choose the appropriate food to provide essential nutrients for the body and know more about the culinary culture of Vietnamese people.